Step 1: Ceate a project with necessary data

Step 2: Upload your KNX group address list
Select the KNX Addresses (file) leaf in the project view
Export the Group addresses in ETS (3 levels, ….)
Upload the file to the iBEMI configurator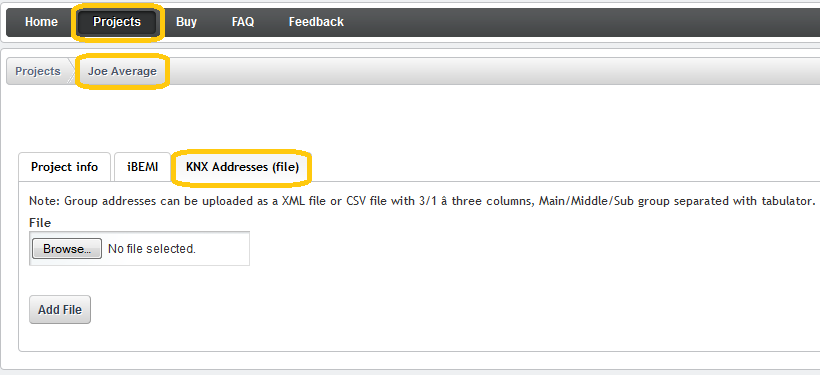 Step 3: Create your profile
In the iBEMI leaf: press the "New" button in the [iBEMI Profiles] section and give your profile a name e.g. the house owners Surename
You can select which type of profile you want, an iBEMI or iBEMI Light profile. See differences in Licenses: iBEMI and iBEMI Light
Click button Edit Profile to open your profile in iBEMI Profile Editor. See iBEMI Profile Editor: How to create your profile for further information.

Step 4: Add an iDevice to your project
Select the iBEMI leaf in the project view
Press the "Add iDevice" button
iBEMI: for iDevices runing the iBEMI app press the iBEMI button in the pop-up window, give your device a name like iPhone or iPad@home, fill in the voucher code and press "Add"
iBEMI Light: for iDevices with iBEMI Light app press the iBEMI Light button, enter a name for your iDevice and add it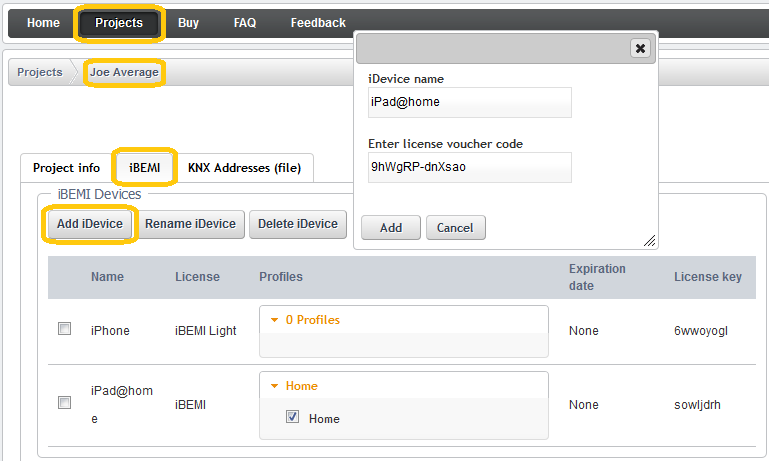 Step 5: Sync iBEMI iDevice and project
in the iDevice that you want to use with that project, open Settings (by pressing the respective button in the upper left corner on starting page)
navigate to section License, enter the license key of the iDevice and press "Register device"
the device is now registered and you are able to load all the profiles of your online project