To guarantee a trouble-free installation and a successful outcome for any type of a KNX project, you need to have a reliable method to produce important documents related to every aspect of your work.
PROPER KNX DOCUMENTATION allows you to maintain a high level of consistency and success when selling, planning, designing, installing and managing your KNX projects from start-to finish.
POOR KNX DOCUMENTATION can lead to:
• Missed deadlines.
• Increased costs and time to get things done.
• Over budget.
• The end-user confused about the specific features and functions of the KNX installation.
• The customer expecting something more or something totally different to what you have initially agreed upon — due to a lack of understanding about the technical requirements and capabilities of their personalized KNX system.
• All parties involved disappointed or dissatisfied with the end result.
KNX PROJECT DOCUMENTATION REQUIRED AND RECOMMENDED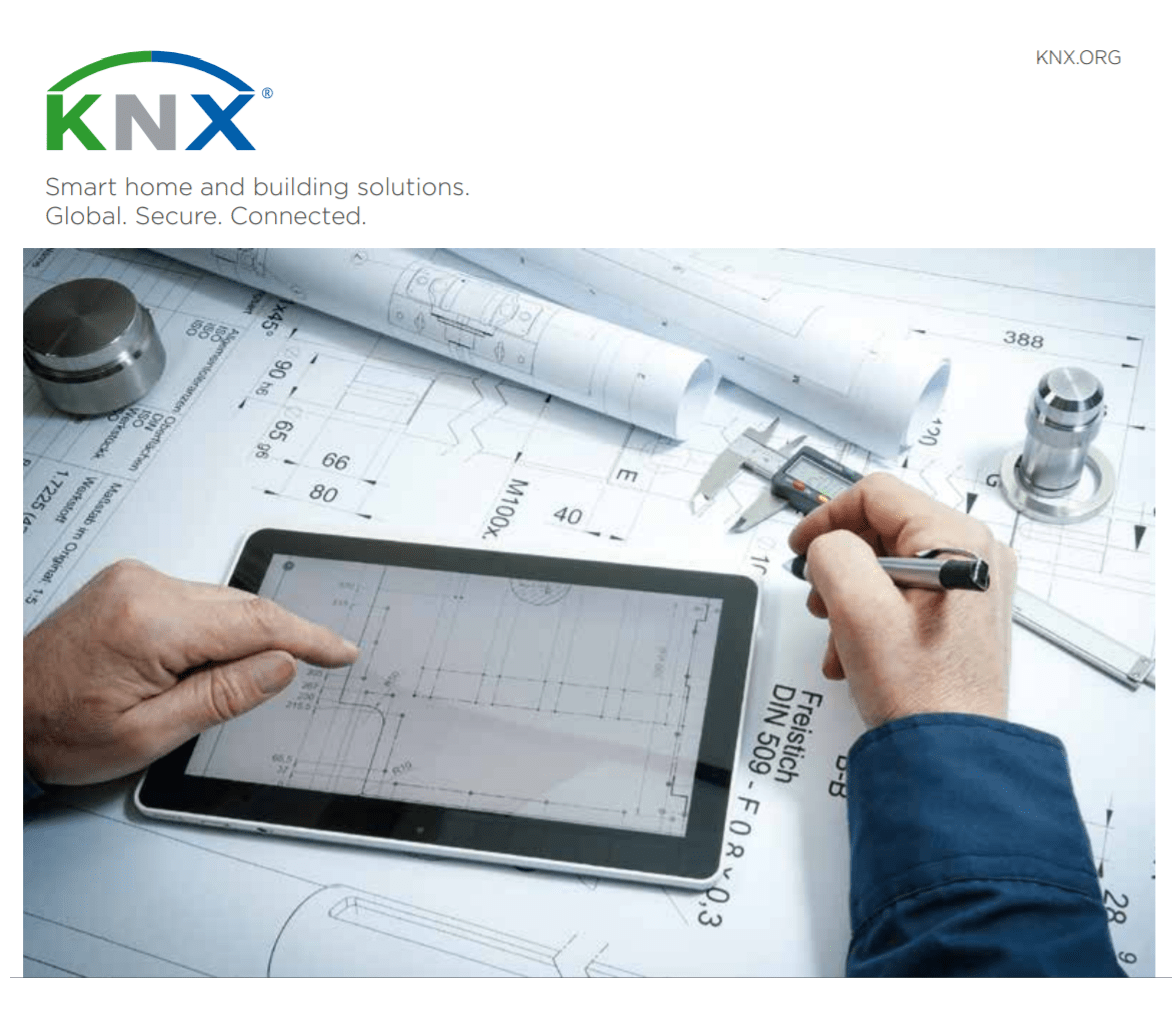 According to the KNX.Org, the following documentation is required for every KNX installation:
• Principle scheme of the facilities
• Revised electric scheme
• Revised electric plan
• Revised room book
• List of companies, responsibilities
• System specification, customer requirements
if applicable
• Acceptance certificate
• Possible test certificate (e. g. calibration of the room
thermostat)
• Report of the hand-over to the customer
• Description of logic functions and further details
• Manual/technical documentation of the installed
components
• Own documents that could be helpful later on for the
maintenance of the system
Furthermore, it is also highly recommended you also provide your customers with documents which clearly identify, outline and explain the following elements of the KNX system:
KNX CONTROL PHILOSOPHY
An outline of the KNX system which covers user interfaces and an explanation of how the mechanical and electrical elements will be controlled.
KNX OVERVIEW SCHEMATIC
An outline of the general wiring of the KNX system which shows how the system is going to be installed and connected. NOTE: This document should be basic enough for non-technical parties to understand.
KNX WIRING SCHEDULES
This document needs to contain all channel allocations, circuits, loadings and KNX programming information for both the HVAC and lighting systems.
KNX FUNCTIONAL LAYOUT
The functional layout shows the functionality of all user interfaces. NOTE: This document is crucial as it establishes the customer's expectations by outlining exactly how the system will work — based on their preferences and the price given or specified by you.
KNX BILL OF MATERIALS (BOM)
Detailed documents which relate to all of the parts and components required for the installation.
KNX DOCUMENTATION MADE EASY (with one simple click):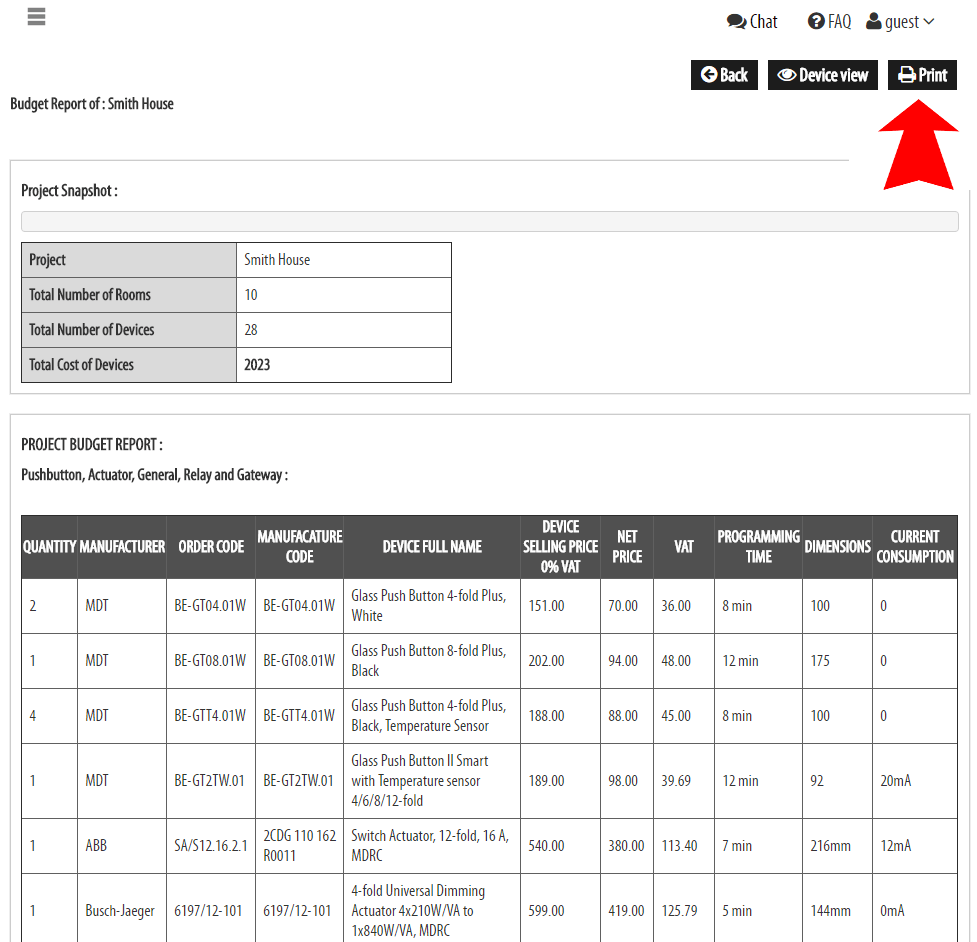 Effective planning and documentation procedures are absolutely essential to guarantee the successful delivery and completion for every KNX project system integration.
Starting from the very first interaction you have with your customers during the initial design and planning of KNX systems — all the way through to programming KNX systems with ETS, final project reporting and customer support — you need to have a reliable, fast and systematic approach for all necessary KNX documentation.
The all-new KNX Design and Planning Tool by BEMI allows you to produce professional documents for your KNX projects that can be used for project budgeting, product ordering, installation guides, user manuals, etc.
✅ Instantly print a wide range of easy-to-understand KNX documents that are created and updated automatically for you when using the tool.
✅ Put an end to time-consuming project planning methods such as manually inputting data and information into programs like Microsoft word and Excel spreadsheets.
✅ Provide customers with a full overview of the features, functionality, capabilities and limitations of their customized KNX system without any confusion before work commences.
✅ Keep track of all necessary parts, components and time needed to complete each stage of a KNX project.
✅ Create additional documents which may be required for such things as E-reports, building inspections or future adaptions to the KNX system.
The best ALL-IN-ONE solution for selling, designing, planning, budgeting and managing the technical requirements and workflows for your next KNX project.
This one-of-a-kind KNX design and planning tool built specifically for the KNX industry, has been proven to help KNX installers save time, money and effort with all stages of a KNX project — from the initial design, planning and development stages, through to programming KNX installations using ETS and final project reporting.
Other key features of the KNX Design and Planning Tool include:
◉ EASY-TO-USE DRAG AND DROP DRAWING BOARD TO DESIGN A WIDE RANGE OF KNX SYSTEMS
◉ SPECIALIZED KNX GROUP ADDRESS FEATURE READY TO IMPORT DETAILS INTO ETS
◉ INSTANT REPORTING AND PRINT-OUTS OF ALL NECESSARY KNX DOCUMENTS
◉ COMPANY BRANDED LABELS FOR KNX PUSH-BUTTONS
◉ PLUS A WHOLE LOT MORE!
The KNX Design and Planning Tool by BEMI ensures a successful outcome for every type of KNX project — whether big, small, commercial or residential.
[siteorigin_widget class="SiteOrigin_Widget_Slider_Widget"][/siteorigin_widget]
[siteorigin_widget class="SiteOrigin_Widget_Image_Widget"][/siteorigin_widget]
[siteorigin_widget class="SiteOrigin_Widget_Headline_Widget"][/siteorigin_widget]
[siteorigin_widget class="WP_Widget_Text_Icl"][/siteorigin_widget]
[siteorigin_widget class="SiteOrigin_Widget_Headline_Widget"][/siteorigin_widget]
[siteorigin_widget class="SiteOrigin_Widget_PostCarousel_Widget"][/siteorigin_widget]
[siteorigin_widget class="SiteOrigin_Widget_Headline_Widget"][/siteorigin_widget]
KNX is internationally recognized as the worldwide STANDARD for all applications in smart home automation and building control — including lighting, blinds & shutters, security systems, heating, ventilation, air conditioning, monitoring, alarms, water control, energy management, smart metering, household appliances, audio/video and more.
[siteorigin_widget class="SiteOrigin_Widget_Image_Widget"][/siteorigin_widget]
[siteorigin_widget class="SiteOrigin_Widget_Headline_Widget"][/siteorigin_widget]