Customers looking for home automation systems are not stupid — if you don't offer them value for their money, they won't buy it!
If someone is looking for a reliable system to control and automate everyday functions such as lighting, safety, security, HVAC, entertainment, energy management, etc. — you can almost guarantee they have already done some type of research on their own before speaking with you about a suitable solution.
So as a KNX systems installer/integrator, how do you convince your customers KNX technology is going to be their best choice to fulfill their needs and requirements?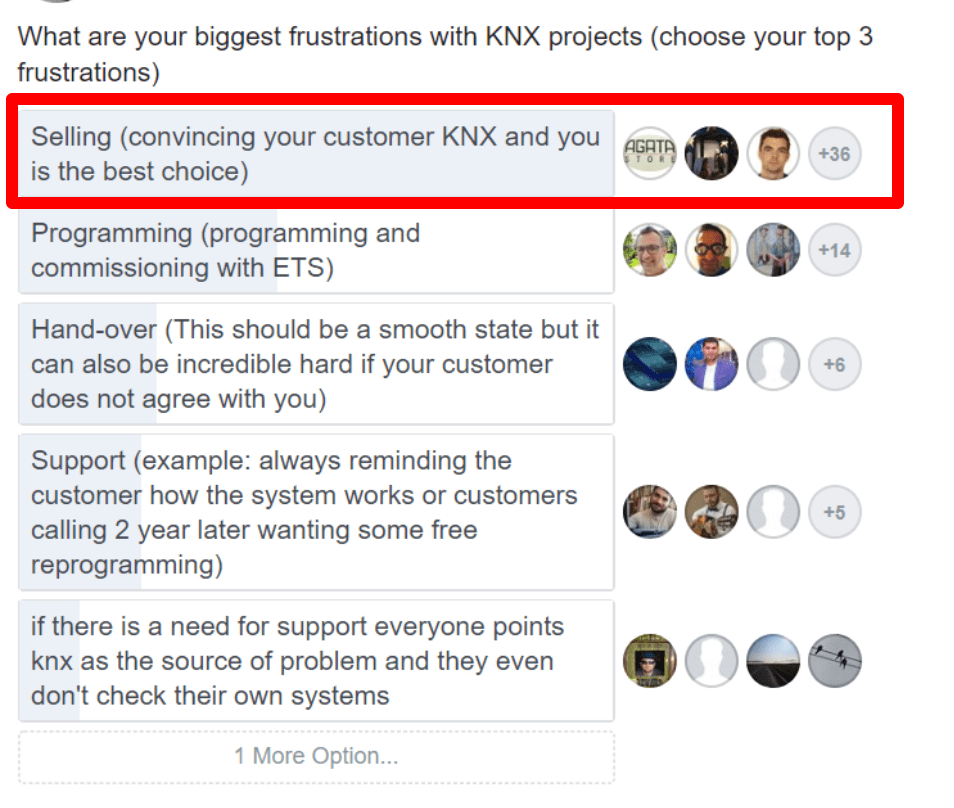 It All Starts With Analyzing Their Situation and Personal Preferences
By taking the time to talk in-depth with your customers first about their concerns and personal preferences for a customized smart-home system (before you do anything else), you are able to position yourself as a trusted advisor on the topic.
You also come across as someone who is more focused on trying to solve their problem or issues — rather than someone trying to sell a customer something they do not want or need.
And while this might seem like the obvious first step into convincing a customer KNX is going to be their best choice (compared with other automation technology), many KNX installers/integrators still struggle to point-out or highlight the extreme value KNX technology offers compared to other traditional or non hard wired automation systems.
When it comes to smart-home automation, your customers will all have different reasons for wanting this type of technology in their homes — whether it be for cost-saving/time-saving benefits, security, convenience, etc.
By making sure you properly identify a customer's reasons and personal preferences first, this makes it much easier for you as the installer to define what they actually want or need, plus the scope of work involved for you to produce the final outcome they are looking for.
It also ensures you are able to set a realistic time-frame and budget for each KNX project, so both you and your customer will be more than satisfied with the end result.
Sell Your Customers on the Benefits of KNX Functions — Don't Focus on Individual KNX Devices
Sell functions not devices – KNX Association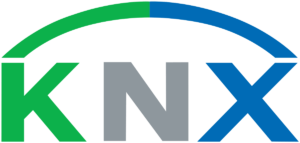 You've probably heard this statement from the KNX association before, as it is an extremely important element during the initial selling phase of any KNX project.
But what does it actually mean?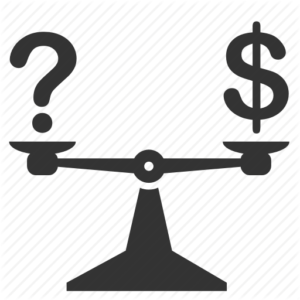 No matter the industry, product, demographic, application or location — people buy things when they feel there is value-for-money in the transaction they are making.
The best way for you as the KNX installer/integrator to help your customers realize the vale-for-money they will receive with a customized KNX system, is by focusing on the overall benefits of how KNX functions will work and operate within the entire system to meet their needs/requirements.
For example, lets say a customer is looking for an easy and automated solution for when they go to bed each night.
They want/need a reliable way to check that the door is locked, all lights are switched off, blinds are closed, security or alarm system is set, etc.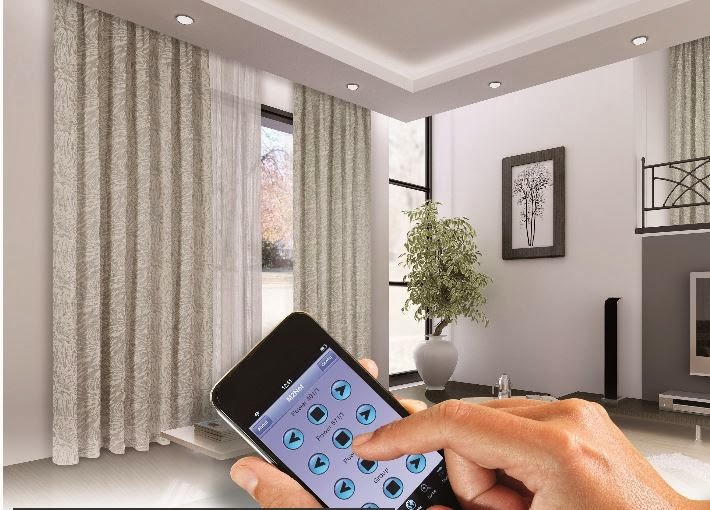 This means you as the installer (or someone who is selling the KNX system) need to be able to help that customer understand and visualize the final outcome for that entire 'event'.
You would achieve this by creating and presenting your customer with a customized 'scene' or button which involves automating all of the necessary 'before bed' tasks — then label that function/button something like 'Going to Bed'.
For your customer to be able to see the value-for-money in what they are receiving with KNX technology, you need to sell them on the overall benefits of functions/scenes/events as a whole — instead of focusing on selling each individual device to control one single task.
By nurturing this way of thinking about entire events (instead of focusing on selling individual devices like 'one button one lamp'), this makes it evidently clear to your customer that a customized KNX system will give them the value-for-money they are looking for — because it offers them much more options and flexibility than a traditional or non hard wired system could ever do.
Visualization is Key to Selling More KNX Smart-Home Systems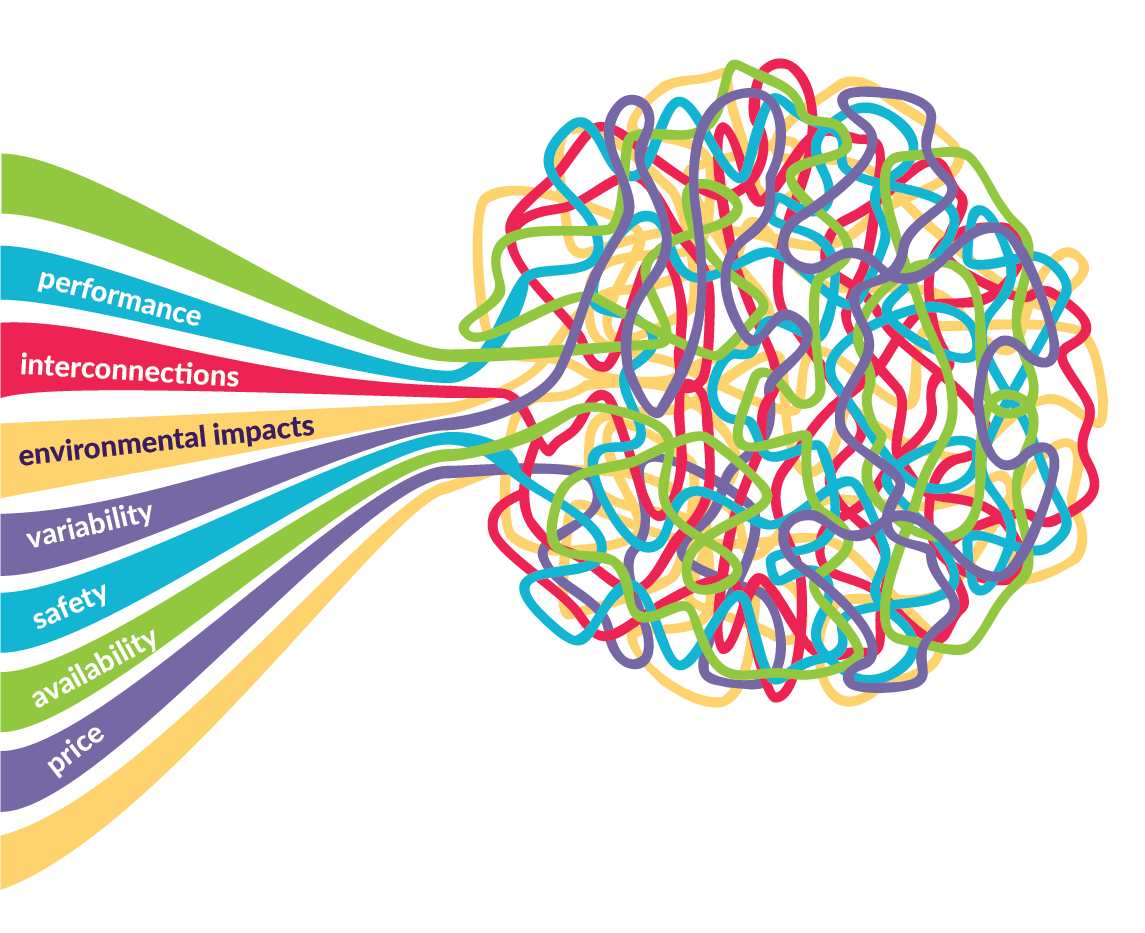 When discussing ideas, functions, events and scenes with your customers, they need to be able to visualize and fully understand what it is you are saying and offering them.
To achieve this, you have to ensure your tendering process or job proposal can be easily visualized and understood by your customer.
For example, you could be offering and presenting your customers with the best, most suitable, most reliable, most cost-efficient KNX system to fulfill all of their needs — but if they can't visualize or understand it for themselves, they will never see the true value-for-money in what it is you are offering — and therefore will not buy it.
That's why it is so crucial to have some type of way for your customers to visualize, understand and comprehend the features, functionality, capabilities and limitations of their customized KNX system without any confusion.
KNX System Design and Visualization Using the KNX Design and Planning Tool by BEMI
To inspire, motivate and convince your customers KNX is their best option for home-automation, you need a reliable system that is simple and fast for you to use as the KNX system designer (or installer) — but most importantly, also easy enough for your customer to understand and comprehend the complexity of the features you are offering.
Faster KNX Design and Planning for KNX Installers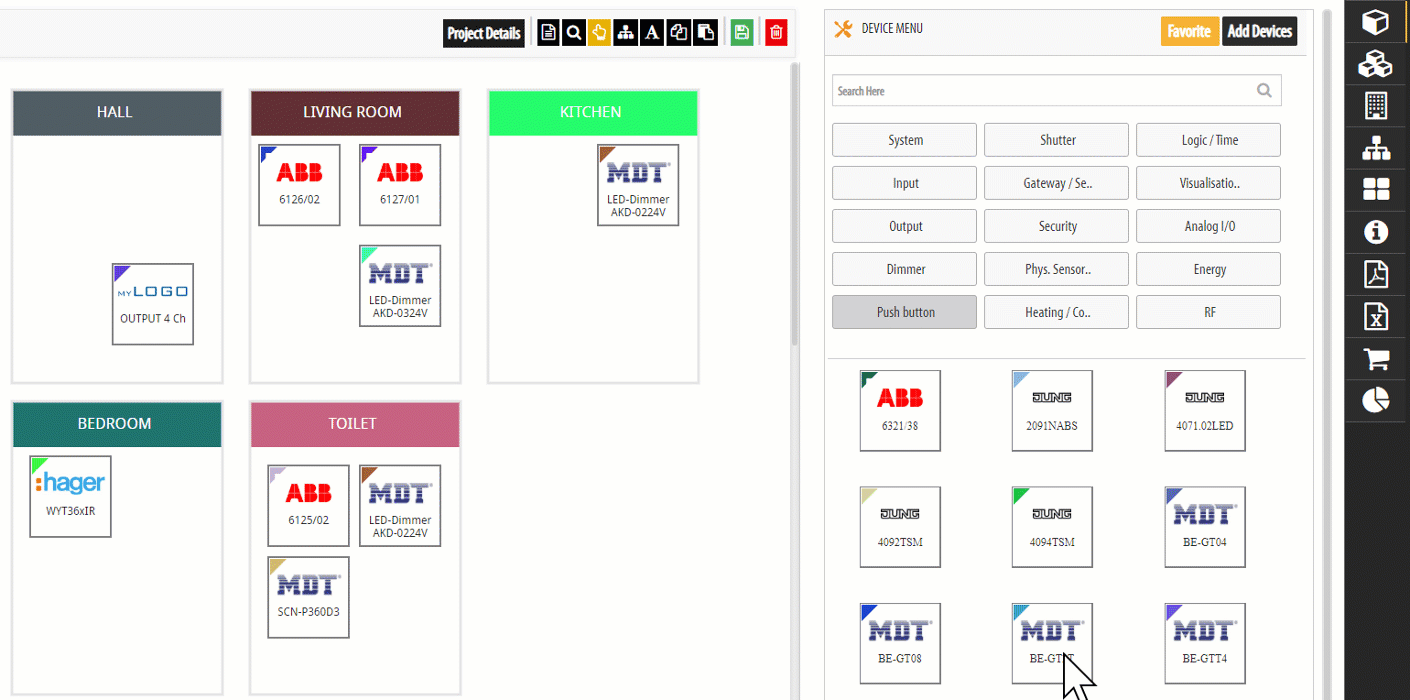 The KNX Design and Planning Tool operates with an easy to use drag-and-drop interface which allows you to design a diverse range of custom KNX systems in minutes. You can also customize the operation of smart devices and automated functions with selected presets, timers, actuators, etc. to suit the needs of your customers.
You simply pick your device/s from the Online Catalog (similar to the Online Catalog in ETS) to customize KNX systems based on customer requirements and preferences — then drag and drop each function (such as light dimming, shutter control, outdoor lights, etc.) into each individual area, room or space you have created in the building view.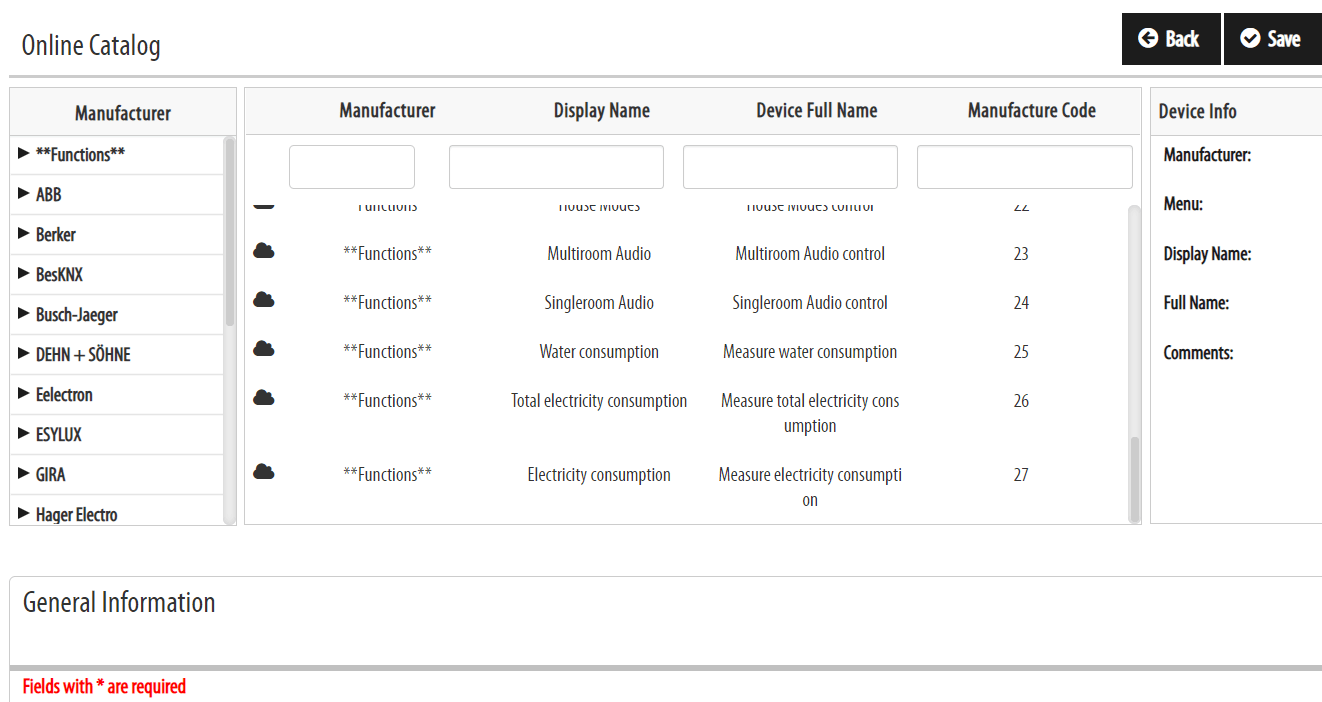 Input your own function descriptions to help the user understand how the functions will work. (e.g. Alarm function: when Home Mode is active and the front door is opened, it will trigger the alarm, which will flash the lights and the siren).
Fill in additional information like Device Selling Price, Net Price, Programming Time, etc. to accurately keep track of all parts and components ordered for each KNX project.
[NOTE: This also helps you visualise and price for each function in the KNX System such as logic, Light Scenes, Multimedia control etc.]
After you have finished designing the KNX system, you can get instant print-outs of easy-to-understand documentation with one simple click to give to your customers.
To save KNX system integrators a huge amount of time (and effort), all necessary documentation is automatically created and updated by the KNX Design and Planning Tool while you use it.
Easy to Understand Documents for KNX Users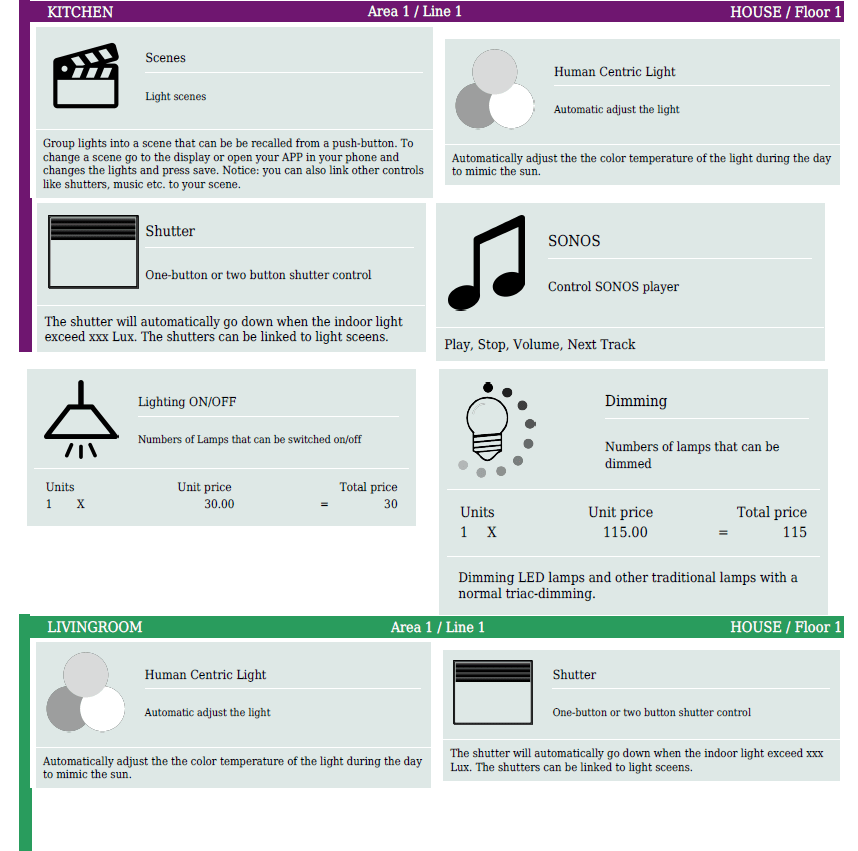 The most important aspect of selling KNX systems to your customers, is having them understand and visualize the value in what it is you are offering.
The documentation created by the KNX Design and Planning Tool can be provided to end-users to help them understand the advantages of a personalized KNX system.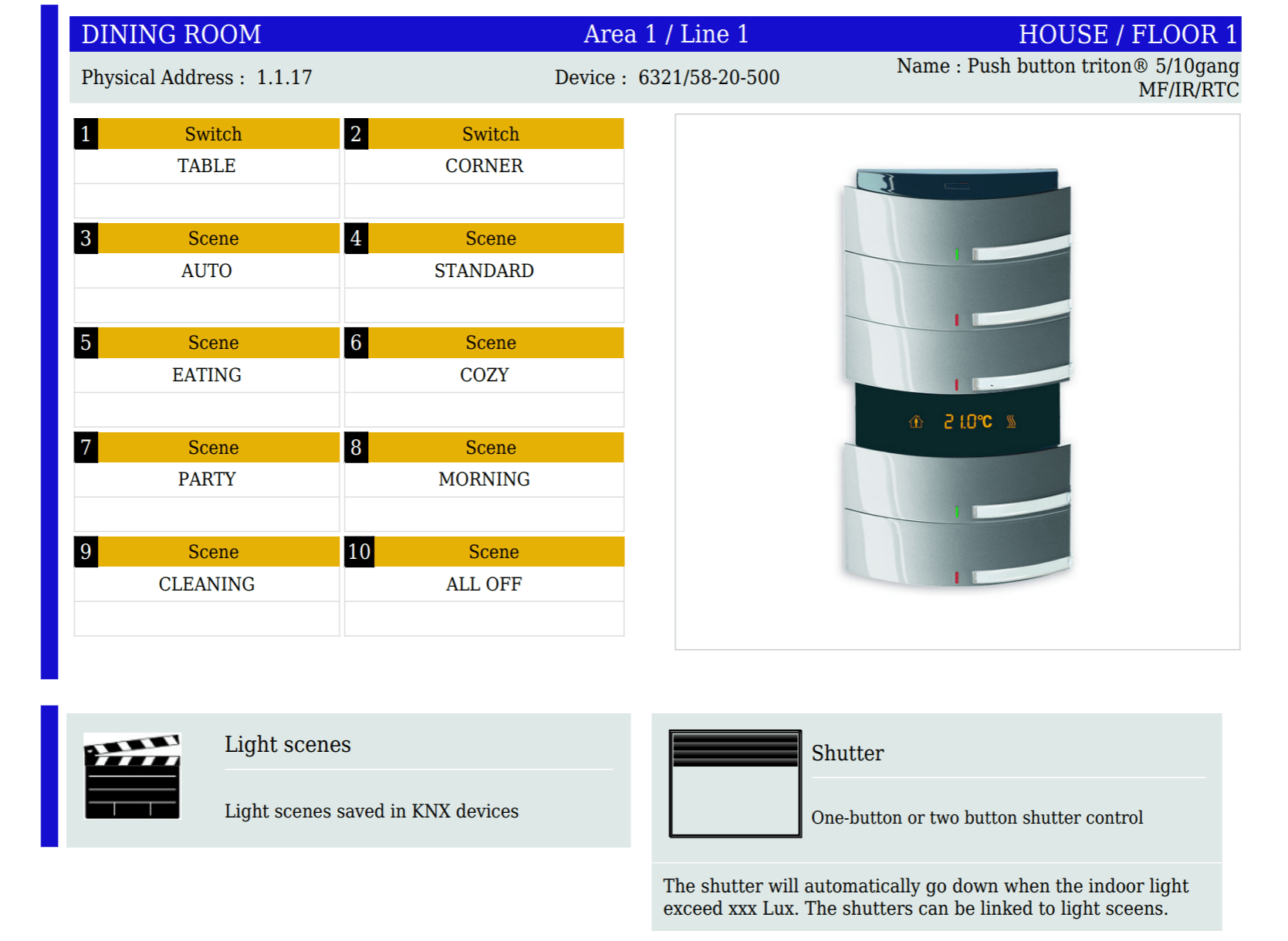 With professional looking images, charts and detailed descriptions of how each KNX function will operate, your customers are able to gain a clear overview of the functionality, capabilities and limitations of their customized KNX system without any confusion.
You can also create and produce a variety of user-manuals to ensure your customers know how to use their new KNX system properly after final programming is complete.
Design, Plan and Manage KNX System Integrations from Start-to-Finish Using One Convenient Online Tool
This KNX Design and Planning Tool is built specifically for the KNX industry and is used by KNX professionals worldwide.
It has proven to help KNX installers save time, money and effort with all stages of a KNX project — from the initial design, planning and development stages, through to programming KNX installations using ETS and final project reporting.
The Design and Planning tool provides a unique and professional way for you to inspire and motivate more customers (and building planners) to install KNX systems — by helping them visualize and understand how KNX technology will be best for them.
The best ALL-IN-ONE solution for designing, planning, budgeting and managing the technical requirements and workflows for each stage of a KNX project.
✅ EASY-TO-USE DRAG AND DROP DRAWING BOARD TO DESIGN A WIDE RANGE OF KNX SYSTEMS
✅ SPECIALIZED KNX GROUP ADDRESS FEATURE READY TO IMPORT DETAILS INTO ETS
✅ HELP END-USERS UNDERSTAND AND VISUALIZE THE POSSIBILITIES OF KNX WITH DETAILED FUNCTION DESCRIPTIONS AND IMAGES.
✅ INSTANT REPORTING AND PRINT-OUTS OF ALL NECESSARY KNX DOCUMENTS
✅ COMPANY BRANDED LABELS FOR KNX PUSH-BUTTONS
✅ PLUS A WHOLE LOT MORE!
Effectively manage and coordinate every aspect of KNX projects with speed, accuracy and simplicity — to maximize productivity and profitability for every KNX system integration you work on.
TRY KNX DESIGN AND PLANNING TOOL BY CLICKING THE IMAGE BELOW:
[siteorigin_widget class="SiteOrigin_Widget_Image_Widget"][/siteorigin_widget]
[siteorigin_widget class="SiteOrigin_Widget_Headline_Widget"][/siteorigin_widget]
[siteorigin_widget class="WP_Widget_Text_Icl"][/siteorigin_widget]
[siteorigin_widget class="SiteOrigin_Widget_Headline_Widget"][/siteorigin_widget]
[siteorigin_widget class="SiteOrigin_Widget_PostCarousel_Widget"][/siteorigin_widget]
[siteorigin_widget class="SiteOrigin_Widget_Headline_Widget"][/siteorigin_widget]
KNX is internationally recognized as the worldwide STANDARD for all applications in smart home automation and building control — including lighting, blinds & shutters, security systems, heating, ventilation, air conditioning, monitoring, alarms, water control, energy management, smart metering, household appliances, audio/video and more.
[siteorigin_widget class="SiteOrigin_Widget_Image_Widget"][/siteorigin_widget]
[siteorigin_widget class="SiteOrigin_Widget_Headline_Widget"][/siteorigin_widget]