USER REVIEW: KNX Design and Planning Tool by BEMI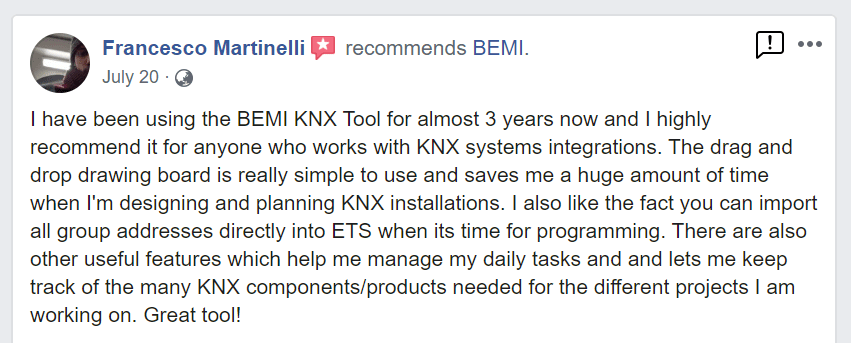 Used by KNX Professionals Worldwide
We've had tremendous feedback about the KNX Design and Planning Tool over the past few months!
Users from all over the world have reported to save up to 65% of work time by streamlining all KNX project workflows; from the initial planning, design and development stages — all the way through to final programming and commissioning KNX installations using ETS.
In the following video, KNX systems integrator Francesco Martinelli from Italy shares his experience after using the KNX Design and Planning Tool for the past 3 years during the selling, planning, design and project management phases of his KNX projects.
ALL-IN-ONE KNX DESIGN AND PLANNING TOOL BUILT FOR SPEED, ACCURACY AND EFFICIENCY
✅ EASY-TO-USE DRAG AND DROP DRAWING BOARD TO DESIGN A WIDE RANGE OF KNX SYSTEMS
✅ SPECIALIZED KNX GROUP ADDRESS FEATURE READY TO IMPORT DETAILS INTO ETS
✅ INSTANT REPORTING AND PRINT-OUTS OF ALL NECESSARY KNX DOCUMENTS
✅ COMPANY BRANDED LABELS FOR KNX PUSH-BUTTONS
✅ PLUS A WHOLE LOT MORE!
The KNX Design and Planning Tool by BEMI ensures a successful outcome for every type of KNX project — whether big, small, commercial or residential.
GOT ANY QUESTIONS?
Enter your details below if you have any questions about the KNX Design and Planning Tool by BEMI Automation.
LEARN MORE ABOUT KNX SMART BUILDING AUTOMATION
KNX is internationally recognized as the worldwide STANDARD for all applications in smart home automation and building control — including lighting, blinds & shutters, security systems, heating, ventilation, air conditioning, monitoring, alarms, water control, energy management, smart metering, household appliances, audio/video and more.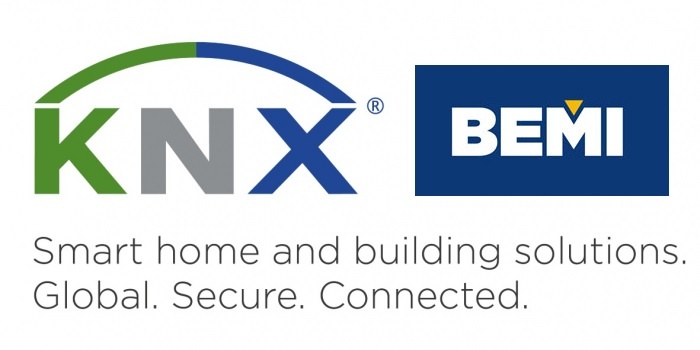 BEMI Automation has been an accredited KNX systems planner, designer, integrator and installer since 2005. We specialize in customized KNX automation systems for residential and commercial building projects of all sizes.