The KNX Tool categorizes devices and functions into submenus to make it easier to find what you are looking for when working on a project. You can sort devices by f.ex. System, Lighting and Security.
To manage these KNX Device menus, go to Project settings > KNX Device menus.
To create a new menu click + Add Menu. If you want to add a menu for devices select "Device View" from the drop-down menu or select "Functional View" if you want to add a menu for functions. Then, enter a name and a description for the new menu. You can Save the new menu in the upper right corner, or click Save and Continue if you want to create another menu.
Click the edit button to edit an existing menu.
Example of menu categories for devices and functions:

Example of the KNX Device Menus page (Project Settings > KNX Device Menus):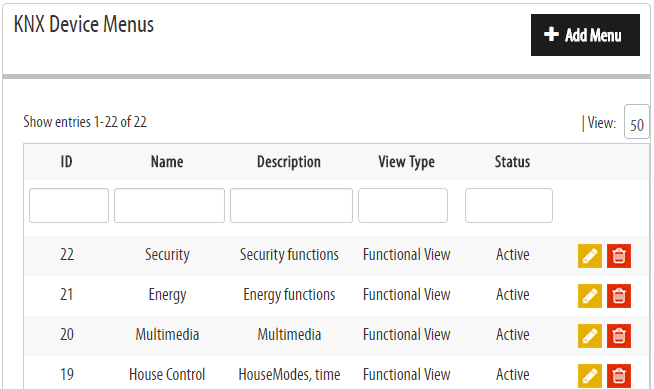 Click the link below to schedule a free live video appointment where we will show you how to setup and customize the KNX TOOL for your current projects.

Tags: device, device menus, menus, settings